Welcome to European Fitness Community - International Fitness Center


European Fitness Community - IEC School is based on experience earned through its international personnel which was obtained during conducting workshops, training courses and conventions in very well-known fitness clubs and on the biggest world stages of fitness.
Founder of EUROPEAN FITNESS COMMUNITY - INTERNATIONAL EDUCATION CENTRE.
The author of the books "Fitness- a job or a passion…", "Fitness System", "The Boy of the diamond mask"
His name was entered into WHO IS WHO? Encyclopedia a list of prominent people of the world.
UNITED KINGDOM HEALTH CLUBS MANAGER, INTERNATIONAL FITNESS PRESENTER, CYCLE MASTER TRAINER, CHOREOGRAPHER, DANCER, CYCLE'OGRAPHY, POWER BAR and PURE RIDE LONDON signature class experience designed.
His charisma and the way he gets along with his clients let him create perfect classes which combine business with pleasure. He is the perfect example of creativity, innovation and professionalism.
Chief catchphrase of his training sessions is: "It's not the art to be taught, the art is to be able to teach" 1992
Presenter who has performed in more than 500 events around the world: Poland, United Kingdom, Austria, Greece, Germany, Portugal, Italy, Russia, Uruguay, France, Hungary, Czech Republic, Croatia, Denmark, Spain and more
DC SPORT FASHION UNITED KINGDOM AMBASSADOR.
During his classes one may easily combine great fun and perfect technique. He attended numerous trainings and workshops and obtained many prestigious titles and certificates. Fitness has been the passion of his life for over ten years.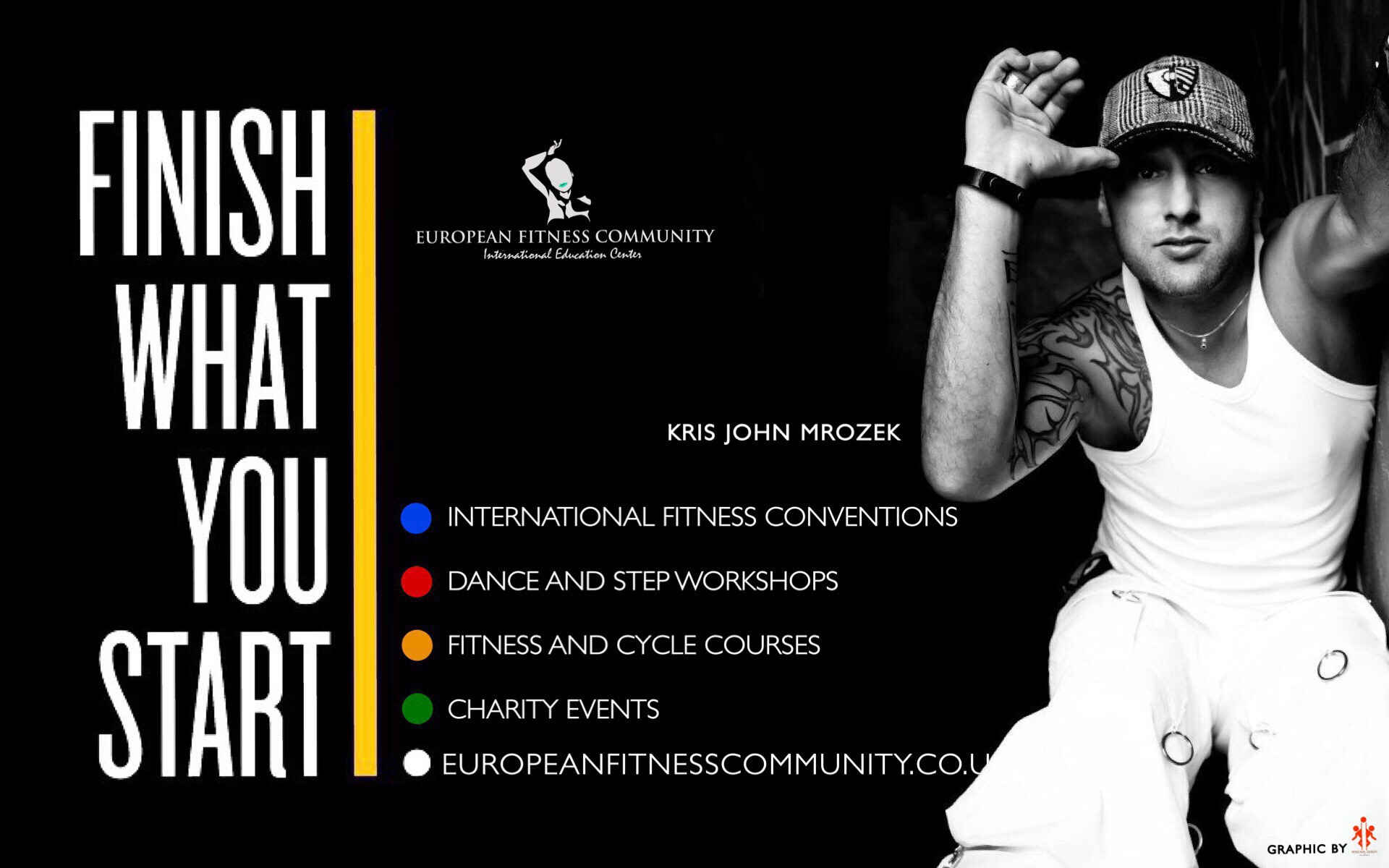 European Fitness Community - International Education Center was created due to huge demand of people eager to work and learn under the professional organisation.
We are known for our professionalism and characterised by our passion, charisma and experience.
With all of this we can guarantee that every single training course and event is carefully prepared and delivered.
We put special care to make sure we meet and exceed your expectations by providing services with the highest standard.
Thanks to collaboration with qualified teachers, numerous fitness & dance presenters around the world and agreements with health & fitness clubs in Europe we created wonderful international institution where you can gain qualifications and knowledge that helps you enjoy your passion throughout your life.
Main aim for creating European Fitness Community -International Education Center is to provide different types of sport events and training courses:
• Fitness Instructor - Level 1 and Fitness Professional Instructor - Level 2,3 Course
• Advanced (Master) Fitness Instructor Course
• Spinning Instructor Course & Spinning Matathons
• Fitness & Dance Workshops
• Choreography Training Courses
• Sport Boot Camps
• Sports Marathons
• International Fitness Conventions &
• Fitness, Dance, Menatal Sports Expos
• Fitness Fashion Shows
• Presentations – 'The good meaning of FIT'
With us you can take part in variety of events and get internationally recognised qualifications. We guarantee reliability, perfection and solid preparation as well as sharing our passion for working with others!
Furthermore our school take part and coordinate charity events aiming to help people in need – especially children.
EUROPEAN FITNESS COMMUNITY TRAINERS AND PRESENTERS: